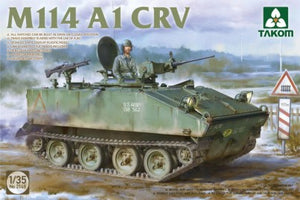 1/35 Takom M114A1 Command Recon Vehicle 2148
TKO 2148
In 1954 the US Army, as it contemplated what it wanted the future force to look like, drafted studies for developing a new standard armored personnel carrier and a companion command and reconnaissance vehicle. These emerged in 1957 as the T113 armored personnel carrier (APC) and the T114 command and reconnaissance vehicle (CRV).
 
After five years of development they emerged as the M113 APC and the M114 CRV. While somewhat similar in shape, the two vehicles shared nothing in common. The M113 could carry a full squad of 10 or 11 troops and a crew of two; the M114 carried a commander, driver and scout with an extra seat for any additional soldiers needed. An initial call for 615 M114s was carried out before it was decided they needed to have an "under armor" capability for the commander to use the .50 caliber machine gun. Trials with an enclosed cupola with the awful M85 machine gun did not work so a new cupola, the XM26 with a remote control M2HB machine gun took its place. This became the M114A1.
245 parts (229 in grey styrene, 9 clear styrene, 6 etched brass, 1 section of twisted brass wire).
- 4 marking variant
- Link & length style tracks
- including etching parts
- Hatches can be opened or closed
---
We Also Recommend