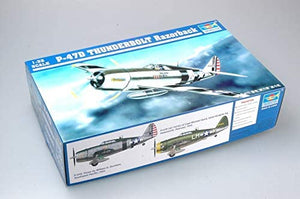 1/32 Trumpeter P47D Thunderbolt Razorback Fighter
TSM-2262
The P-47 was a big (7 Ton) and very powerful high-altitude fighter, commonly called "the Jug". The project started from 1939. And Deliveries started late in 1942. A total of 15683 this US fighter aircraft was built in WWII. For early the P-47 Designed as an interceptor, but later it proved to be an outstanding combat plane both in bomber escort and ground attack duty. Its great structural strength and massive radial engine that could withstand damage better than the other plane. P-47D. This model was the major production version, and 6,315 were built. This aircraft was power by a water-injected version of the 2,000hp R-2800 engine, which gave it a top speed of 433mph at 30,000 feet. the P-47 models prior to D-25 became known as "Razorbacks."

Highly detailed - inside and out
Full engine, cockpit, turbosupercharger and gun bays
Separately molded control surfaces, vinyl tires and ammunition belts, clear cowling
Photo-etch parts (seat belts/harnesses, screens and additional details)
Choice of 4 propellers
External stores (108 gallon flat centerline tank, wing tanks - 150/108/75 gallon, 500/250 lb bombs and rocket launcher tubes) plus film instruments
Decals for 2 USAAF aircraft:
42-72542, Captain Michael Quirk, 62nd FS/56th FG, Halesworth, February 1944;
42-27884, 'Bonnie', Major William Dunham, 460th FS/348th FG, Southwest Pacific, 1943.
---
We Also Recommend