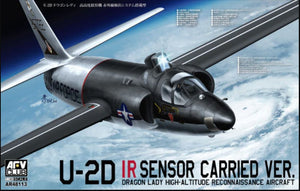 1/48 AFV Club Lockheed U-2D IR Sensor carried ver.
AFV48113
1/48 AFV Club Lockheed U-2D IR Sensor carried version
In 1954, Lockheed's Advanced Development Projects division (better known as the "Skunk Works") began work on a reconnaissance aircraft for the Central Intelligence Agency under the codename AQUATONE, while the Air Force's Strategic Air Command ordered 29 of the new aircraft, designated U-2, under project DRAGON LADY. Clarence L. "Kelly" Johnson designed the single-engine jet to carry its pilot over denied territory, while cruising at altitudes above 70,000 feet and carrying a variety of cameras and sensors.

The 48th U-2 airframe built (known as Article 388 or Air Force serial number 56-6721) was the 28th U-2A constructed at Lockheed's factory in Oildale, California. In October 1957, it was delivered to the 4080th Strategic Reconnaissance Wing at Laughlin AFB, Del Rio, Texas. During a training flight by a Taiwanese pilot on 3 August 1959, the aircraft was damaged in a bell-landing at Cortez, Colorado, in what has been referred to as "Miracle at Cortez".

While undergoing repairs from the belly-landing, U2-A #56-6721 was modified to accommodate a second crewman, as well as a suite of equipment to measure infrared emissions from aircraft and missiles, in an effort to provide an early warning of a Soviet nuclear attacks. Re-designated as a U-2D, the aircraft was delivered to Edwards AFB in December 1959 and assigned to the Special Projects Branch of the 6512th Test Group, for use in Projects LOW CARD and SMOKEY JOE, in support of Missile Detection and Alarm System satellite development.

In May 1968, it received new instrumentation for a series of 31 test sorties in support of Program 949, development of a space-borne missile warning system. These tests, involving flights from Hanscom Air Force Base, Massachusetts, and Patrick Air Force Base, Florida, continued through October 1968.

During the 1970s, the U-2D served as a chase plane for COMPASS COPE unmanned aerial vehicles. Students from the Air Force Test Pilot School at Edwards occasionally had opportunities to fly the aircraft as part of their studies.
---
We Also Recommend