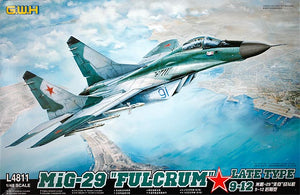 1/48 GWH MiG-29 "Fulcrum" Late Type 9-12
GWHL4811
In the late 1960s, the USAF started to develop a requirement for an advanced air superiority fighter based upon the lessons being learned in combat over Vietnam plus the growing threats posed by the MiG-23 and MiG-25. This program led to the F-15 Eagle followed closely by lightweight fighter program creating the F-16 Fighting Falcon.

Soviet planners viewed these new fighter developments with concern and started the process for a counter-development leading to the Su-27 Flanker and its lightweight counterpart, the MiG-29 Fulcrum. Entering service in the mid-1980s, the MiG-29 is a highly maneuverable dogfighter with an impressive mix of air-to-air weapons.

This kit represents the 9-12 design which was the first production version of the aircraft and was probably produced in the greatest numbers. Identified by NATO as 'Fulcrum A', the 9-12 is in service with numerous air forces around the world. 

Features and options in this kit:
18 Sprues

Nicely detailed cockpit
Individual instrument face decals
K-36DM ejection seat with photo-etch harness
Positionable canopy
Choice of open or closed auxiliary inlets
Choice of open or closed FOD cover intakes
Dorsal chaff/flare launchers
Two detailed RD-33 engines
Optional engine stand to display engine separately
Positionable speed brakes
positionable enlarged rudders
Positionable stabilators
Positionable ailerons
Positionable leading and trailing edge flaps
Positionable landing gear

External stores include:
2 x R-27R (AA-10 Alamo A)
4 x R-73 (AA-11 Archer)
2 x external underwing tanks
1 x centerline fuel tank
Markings are provided for three examples:
MiG-29, Bort 44, 1 AS/404 IAP/20 IAD, Orlovska AB, Far East Miltary District, Russian AF
MiG-29, Bort 91, 119 MIAD, Black Sea Fleet, Soviet Navy
MiG-29, Syrian AF
---
We Also Recommend