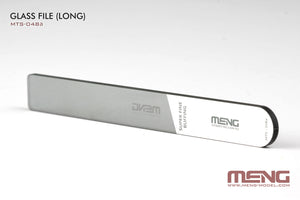 Meng Glass File (long) Super Fine MTS-048A
MNG MT048A
This is a file for plastic modeling use, not to be used on other materials.
MENG and DSPIAE have worked together to present brand-new glass file. Unlike the traditional files, this glass file don't need to have their cutting surfaces cleaned frequently or be stored properly to avoid rust. You can use the long file for the filing of large model parts.
The MTS-048a Glass File (Long) is made of one-piece high-quality tempered glass which incorporates nanotechnology during the production process. Product is designed with a single grain pattern which ensures smooth and uniform filing. During use, wash the glass file with clean water to remove the debris and restore its filing capacity, and it won't rust. Now try this amazing file!
Can produce a perfect fine edge unlike grit sanders.
---
We Also Recommend