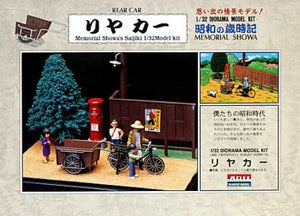 1/32 ARII Memorial Showa's Saijiki Rear Car (55010) 2000?
ARI 55010
Previously owned
Box not sealed (common among Japanese kits)
Sprues inside are sealed in bags, all parts included.
ARII produced a series of 1/32 models called "Memorial Showa Diorama". There were basically around three separate, distinct scenes, but Arii simply mixed and matched the parts to produce a lot more. Among the more memorable items are a telephone box, post box, a small tobacco shop front, a big torii, and traffic lights, all from the 1950s-1960s era. All Kits included sprues and parts from others, its possible to mix kits and create new dioramas, or create one larger one. 
---
We Also Recommend