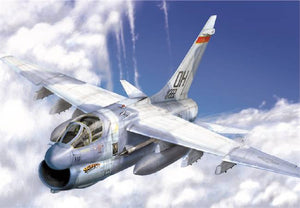 1/48 Hobby Boss A-7D Corsair II USAF 80344
HBB-80344
HobbyBoss
1/48 A-7D Corsair II
The LTV A-7 Corsair II is a carrier-based subsonic light attack aircraft introduced to replace the United States Navy's A-4 Skyhawk, initially entering service during the Vietnam War. The Corsair was adopted by the United States Air Force, as well as the Air National Guard, to replace the A-1 Skyraider, F-100 Super Sabre and F-105 Thunderchief. The aircraft was also exported to Greece in the 1970s, and Portugal and Thailand in the late 1980s. The A-7 airframe design was based on the successful supersonic F-8 Crusader produced by Chance Vought. It was one of the first combat aircraft .to feature a head-up display . an inertial navigation system (INS). and a turbofan engine.

A-7D,Version built for the USAF, with one Allison TF41-A-1 turbofan, and a single 20 mm M61 Vulcan Gatling cannon; 459 built.

Item No 80344
Item Name A-7D Corsair II
Bar Code 6939319203441
Scale 1:48
Item Type Static Aircraft
Model Dimension Length: 293mm Wingspan: 246.4mm
Camouflage Scheme
A-7D CORSAIR II 162 TFS,178 TFG Ohio ANG

LTV A-7D/23D TFW "Flying Tigers" USAF
Released Date 2009-11
More Features
External loads:AIM-9L×2;GBU-8×2;GBU-10×2;MK-20×12;MK-82×12;ALQ
---
We Also Recommend