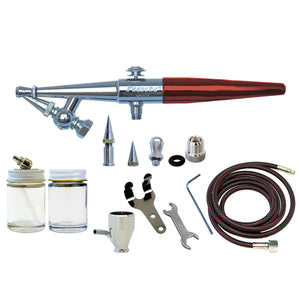 Paasche HS-3MH Single Action W/ 3 Heads & Metal Handle
PAS HS-3MH
$10999

$109.99

Save $23.01
---
---
HS-3MH Single Action - External Mix - Siphon Feed Airbrush:
The HS airbrush features a unique threaded bottle fitting for the most secure paint bottle connection.  The airbrush features a chrome plated body for durability.  Included with the airbrush are all three available spray heads, which allow the H airbrush to be used in a wide range of application.  The H single action allows the user to achieve fine lines down to 1/16 inch and wider patterns of up to 1-1/2 inches.  It simple and easy to use and requires very little practice compared to double action models.  The best uses are those requiring more basic spraying like solid coats, uniform lines or stencil work.  Clean up is as simple as spraying your paint cleaner though the airbrush.  The H is used for many applications including hobby, craft, chip and ding repair, taxidermy, ceramics, cake decorating, tanning, tattoos, etc.  The H airbrush is made in the USA.
HS-3MH Includes:
HS#3 airbrush, size 1 & 5 spray heads, anodized aluminum handle, 1/4 oz metal cup, 1 oz bottle assembly, 1 oz storage bottle, 1/8"BSP Adapter, hanger, wrench, 6 foot braided air hose, lessons booklet and manual
Features:
Airbrush Made In The USA
Three head sizes for any application
anodized aluminum handle
Unique Threaded bottle fitting for the most secure bottle connection available 
Highly polished & hardened stainless steel needles for long life and reduced clogging
Solvent proof needle packing allow spraying of water & solvent based paints
Chrome plated body
Specs:
Part Number:    HS-3MH
Type:                 Single Action, External mix, Siphon feed
Head Size:         Size 1 (.45mm), Size 3 (.65mm), Size 5 (1.05mm)
Fluid Packing:    Can spray solvent or water based fluids
Air Volume:        20 PSI @ .5 CFM
Air Pressure:       20-75 PSI            
Air Inlet:             
¼"-20 Thread (Paasche thread) & 1/8"BSP Adapter
Bottle size:         
1/4oz to 8oz bottles available
Spray Pattern:   
1/32" to 1-1/2"
Weight:               1.1 Lbs
Finish:                 Chrome plated body
Single Action w/ 3 heads & Metal handle, Replaces HS-2
---
We Also Recommend